and a note on Pakistan politics
As we celebrated
Holi
in India, the
Men in
(the new shade of)
Blue
had their own plans for celebrations in Hamilton. While the Rain Gods in New Zealand continued to play
Holi
on and off, the
Delhi-Daredevils
drenched the
Kiwis
with the shower of fours and sixes.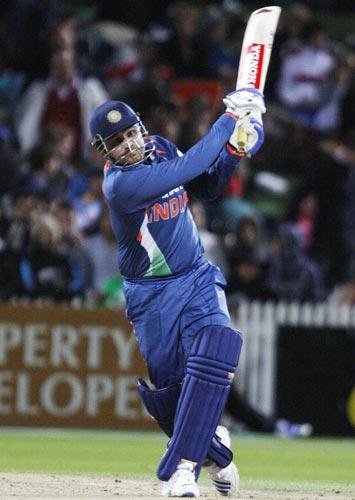 Earlier the Indian bowlers did a good job in restricting the
Kiwis
just under run a ball but the way
Sehwag
-
Gambhir
duo approached the target, it seemed any score would have been indefensible for the
black-caps
.
Man of the moment,
Sehwag's
blitzkrieg earned India its first
ODI
series win in New
Zeland
and for him in person, the record of the fastest century by any Indian in
ODI's
. His partner supported him well throughout the innings.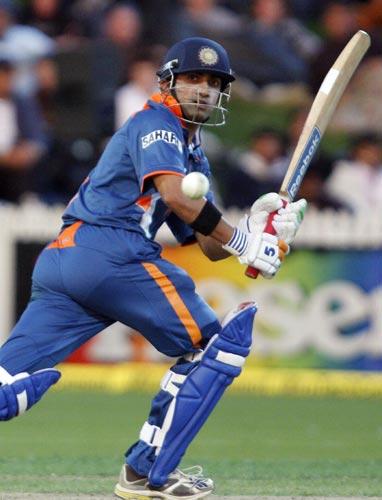 Gautam
Gambhir
had a humble beginning in the international arena. I remember my cousin from
Noida
, who had played Inter-College tournaments against his team, telling me about
Gambhir's
exotic
strokeplay
and shear power. My cousin, himself a wicket-keeper used to watch
Gambhir
in awe as he sent the balls hurling out of the stadium. However, having seen his earlier international performances this was difficult to comprehend. But then came
IPL
. And so came
IPL
for his opening partner
Sehwag
, in dire need to resurrect his career. After the tournament there was no looking back. Be it Tests,
ODI's
, T20's,
IPL
or Domestic cricket, the two are made for each other.
With due respect to the
master-blaster
, I believe its time that he recedes to a lower slot in
ODI's
to allow this dynamic duo play more and more cricket together at the top. It is in the best interest of the Indian cricket team.
_________________________________________________________________
We've heard that history repeats itself but when it comes to Pakistan, it seems to repeat just too frequently. The scenes which were a common place just a year ago are back to haunt democracy in Pakistan.
This cartoon by
Keshav
in 'The Hindu' portrays it aptly. Ironically, the situation in our neighboring country acts as a balm to heal our woes against our domestic politics. The
treacherous
credentials
of our politicians pale in front of those from Pakistan. It makes us realise how despite its shortcomings, the Indian polity has allowed democracy to survive despite some hiccups in mid-70's.
As for Pakistan, in the words of
Nawaz
Sharif
, within a year, the ghost of Musharraf has resurrected itself in the form of
Zardari
. Today speaking at a rally, Sharif, in a bid to underscore his concern for constitutional reforms to restore the balance of power back in the favour of Prime Minister as in pre-Musharraf times, did not indulge in any mud-slinging against the present PM Yousuf Raza Gilani, rather supported him, keeping his own political ambitions at bay as of now. As noted by 'Times Now', Prime Minister
Gilani
too looked defiant later in the evening as he spoke of democracy, 1973 Constitution and early withdrawal of President's rule from Punjab, not in sync with President
Zardari's
assertions. However, it will be interesting to see if it indeed is defiance to
Zardari
or just a '
good cop/bad cop
' ploy of
PPP
to soothe the increasing unrest among the masses ignited by
PML
(N).
My heart goes out to the common man in Pakistan who so emphatically voted for change and democracy last year but got nothing but dirty politics in return. However, in the present context too, I believe, as noted in my previous post, that the polity of any nation is just a reflection of its society. Its high time that
Asif
Ali '
Bhutto'
Zardari
backtracks and yields, or his future too seems to be going the same way as that of Musharraf.
Images Courtesy


Cricket- http://im.rediff.com (original)
Cartoon- http://www.hinduonnet.com by Keshav (original)